Apparently the markets were quite volatile this week, and the headlines were screaming out those warnings to investors. I wasn't really paying much attention to the markets but I did hear from a couple of readers and certainly a few headlines and Twitter posts offered that the markets were throwing another hissy fit.
Headlines and commentators would have told you that the Canadian market had its worst day of the year.
And that screen cap from a CTV News page certainly offers more commentary on the 'why' and continues with more speculation videos on the right hand side banner. There's talk of US recession. How will that affect Canada? US stock markets also take a dive. Is that due to the Trump trade wars?
And Canada's market swoon is apparently due to the inverted yield curve that so few investors would understand. And here's the thing, save yourself the 10 minutes of your life and don't educate yourself on what is that inverted yield curve.
But if you just can't help yourself here's a link from The Balance.
Ignore everything and everyone.
I hope you did not open that link. There's nothing to see here for a patient long-term investor. Stock markets go up and down, but of course they mostly go up, and they've gone up tremendously over time. But periods of economic weakness and recessions and stock market corrections are all normal and expected.
The Dividend Guy posted this chart that can help frame stock market activity.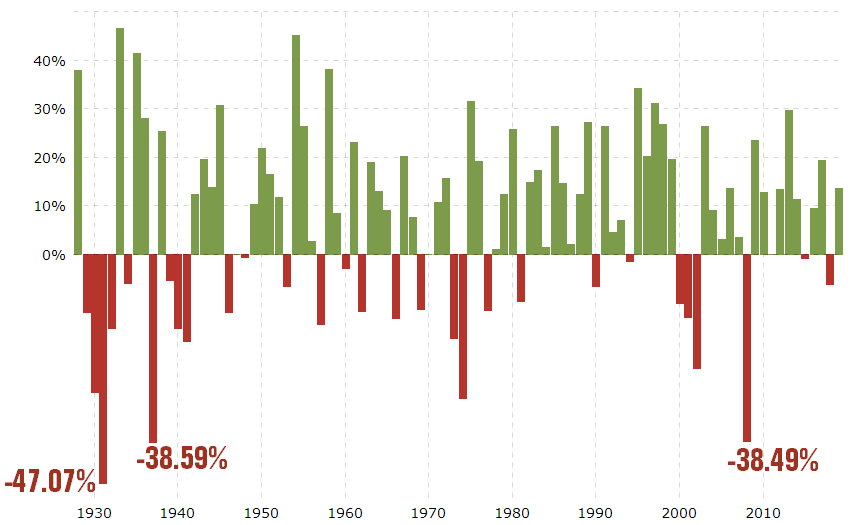 We see that the US stock market mostly offers years of positive returns. But corrections and years of negative returns are offered with regularity. The thing is, we haven't had a major correction in over 10 years and we all might be getting a little soft.
Those markets can correct for many reasons that certainly can range from Trump tweets to Brexit to those misbehaving yield curves to commentary from nervous economists (I think they largely only make economists of the nervous variety). The markets will fall again at some point. We don't know when. We don't know what will cause the decline. The only matter of concern is are you prepared? Are you investing within your risk tolerance level? Do your investments align with your investment time horizon and that risk tolerance level?
Embrace that stock market correction
If so, you can ignore all of the above and continue to execute your plan. If you're in the accumulation stage lower stock and stock fund prices will allow you to buy more shares or units. Corrections are very healthy, and they can be very good for your portfolio. Who doesn't want to enter retirement with more shares and bigger dividends? If you're in the accumulation stage with 15 or 20 or more years to go before your retirement start date you should actually hope for and embrace a generous market correction.
On Seeking Alpha I had offered that Market Corrections Weed Out The Weak And The Pretenders. Get on the right side of market volatility. Warren Buffett offers that stock market corrections return stocks to their rightful owners. Ya know, be greedy when others are fearful.
If you're in or approaching the decumulation or retirement funding stage you should likely have a nice mix of stocks and bonds. Those of us with a bond component know that the bonds have been 'doing their thing' in recent months and over the last year.
Here's Vanguard's Aggregate Bond Index Fund VAB. Performance year to date.
That bond component can certainly make us feel a little more 'comfortable'. It's nice to see an asset going up when the markets are heading in the other direction. For retirees they can harvest more of the bond assets as they increase in price.
All said, ignore the market noise and commentary and speculation. Stick to your investment plan.
Weekend Reads
Here's an interesting post on Boomer and Echo that compares the Vanguard One Ticket Balanced Portfolio with Mawer's Balanced Portfolio.
In the land of One Ticket I had penned on how Vanguard has attracted $1 billion in 2019, and that iShares launched 3 new offerings.
MillionDollarJourney updated their post on top cash back credit cards in Canada. You'll see my Tangerine card in the mix.
On FindependenceHub I really like this post from Steve Lawrie, 40 years after the stock market died. That article contains a wonderful quote from Barry Ritholtz on ignoring market predictions and forecasts.
"One day, the world will indeed end.  The sun will run out of hydrogen fuel, turn into a red giant star, and expand until it engulfs the earth.  That is about 5 billion years in the future.  In the meantime, you can safely ignore all other forecasts."
I see that the sun did rise again today, you are good to go.
Here's a great common sense post from Tom Bradley of Steadyhand – How millennial investors can learn from their parents.
And in what I found to be a more than surprising move Wealthsimple, Canada's most famous robo advisor, partners with a firm that serves the rich and uber-wealthy. That demonstrates the scope and potential reach of digital wealth management.
Thanks for reading, wish the Etobicoke Rangers luck. We're in London for the National 18u finals. Have a great weekend.
Leave a message, send me a note.