I am currently enjoying the best part of financial freedom or financial independence. I am travelling with my daughter; we're in England taking in all of the history and ancient buildings and castles and wonderful architecture. We're also spending some priceless time with family. I am a half-Brit.
We just returned from a day at Stonehenge and a nice pub lunch in nearby Amesbury.
We then took my daughter to see the house where I lived for a year, and then to see the school I attended. Tomorrow we're off to the seaside, that's the beach to you North Americans, ha. If I'm brave, I'll even swim in the freezing cold water.
To me, there's nothing much better than travel and the experiences it can deliver. Having the ability to take off upon occasion and to not have to book that time off with a manager is priceless. Having no limit on your vacation time is also wonderful, of course. The limitations on that might be your retirement or semi-retirement spending budget and your personal responsibilities at home. I am limited on both counts.
That said, I've read in many places how those who retire with great resources and have the ability to travel endlessly can often get bored after several months. It loses its thrill. Perhaps it's best to keep vacations in that special place, where they are just rare enough that they are treasured. We can't wait for them to arrive, and we dread when they are about to end. To each his or her own, but I think when my wife and I truly retire we'll attempt to keep vacations feeling like, well, vacations.
My financial freedom
I won't bore you with the many details on how we got here. We just did a few of the big things right. I did offer some background in this post for myownadvisor. First and foremost we paid down our mortgages. That has been our most successful wealth creator. Our Toronto home is our accidental investment. It's a game changer.
We attacked our mortgage before our investments. Though I certainly invested along the way, for the most part. And then once the debt was completely under control I played RRSP and TFSA investment catch up during some years with higher income.
On that here's a post I did for the Tangerine blog, Playing Catch Up With Your Retirement Portfolio. And my accumulation stage was quite quick. I was wiped out by a 'business partner' at age 30. I even had to raid and sell my RRSPs to pay the rent. I had to start over.
We can fill in the portfolio gap
I built a decent portfolio, but not one that is retirement ready. It's only half-way there. Let's say it could only get me halfway to England. I still need to work. You can call it semi-retirement or a new life work stage. My idea was that I/we do not need to sprint to the retirement finish line. Why not stop when we're half or three-quarters of the way there and stroll to the finish line perhaps aided by some meaningful work with a purpose. For me, it was mostly made possible by no debt and declining spending needs. When one leaves the workforce that can further reduce spending needs.
Full disclosure I am aided (greatly) by my wife who continues to work full time and then some. I like to 'joke' that I am a kept man. But I'll earn my keep again one day.
Does FIRE even exist?
As you may know there is a growing FIRE movement fueled by some aggressive bloggers – Financial Independence Retire Early. The problem is most of them are not retired, nor do they appear to be on the path to any real form of Financial Independence. Most appear to be attempting to make money by 'selling the dream'. Especially in the US.
I think Jonathan Chevreau had it right many, many years ago with the framing of Findependence. As I write this from across the pond, Jon is enjoying some wonderful time with his wife in South Africa. Even now, Jon would not claim to be retired – he still "works".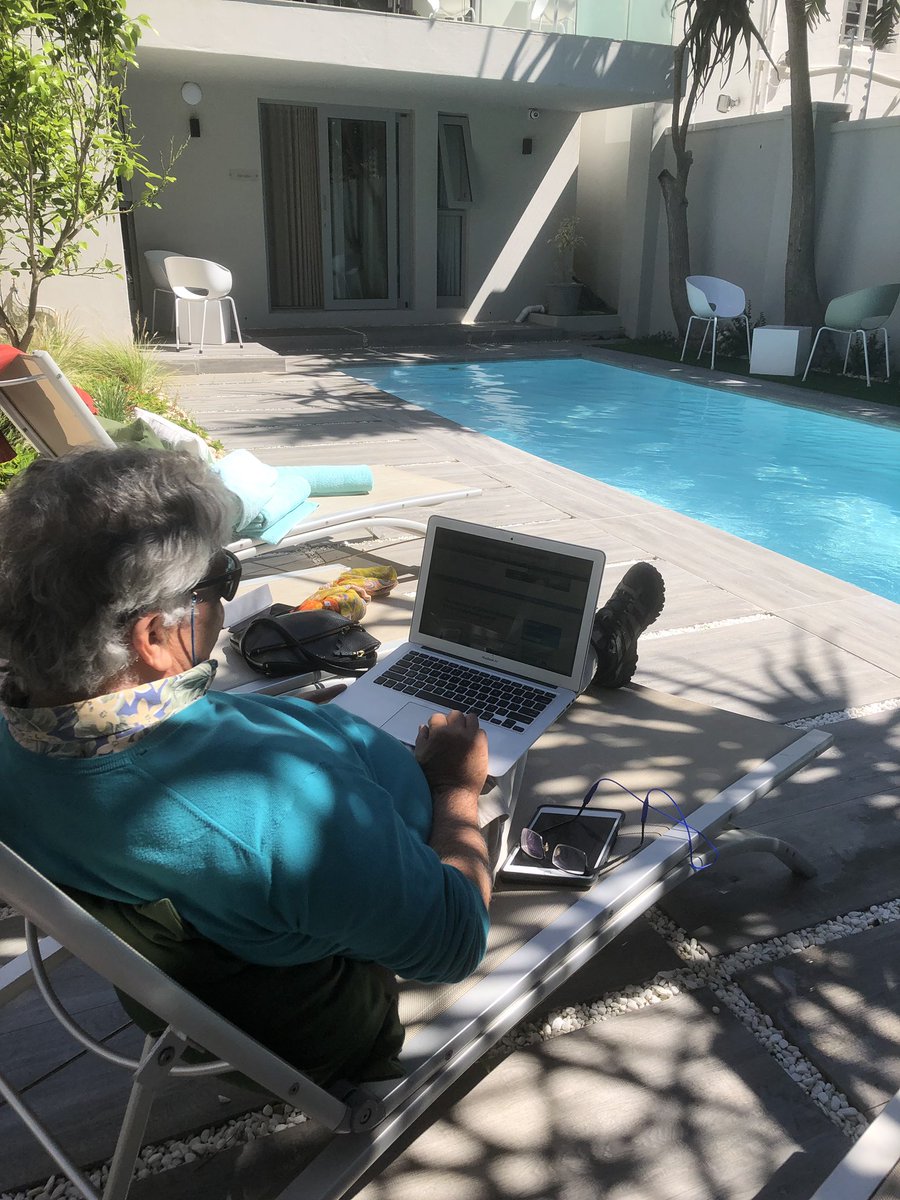 Here's a great post and interview of Jon on myownadvisor Passive and active investing can exist in retirement harmony. I couldn't agree more. Much of my current trip was funded by my big juicy Canadian dividends.
Mark of myownadvisor has coined the acronym FIWOOT, Financial Independence Work On Own Terms. That does the trick for me as well.
And Robb Engen of Boomer and Echo clearly lays out his Findependence plan on his blog. His retirement will take a combination of portfolio income plus freelance and blogging efforts.
And milliondollarjourney clearly lays out his progress. He is creating impressive portfolio gains. But it's likely that retirement will be funded by those portfolio dividends and blog income. I'm not sure if other pension amounts are in the picture.
Canadian writers and bloggers are largely not selling that early 'retirement' dream, the stance is much more Canadian. Bob at the blog TawCan writes often on the Canadian 'FIRE' movement. Here's his latest on that subject with Relocating to Spain. But once again we read of the story of a Canadian who is simply working from anywhere. While Duane (the subject of the post) appears to have considerable assets, it is the current income that supports the nomadic lifestyle and in fact he admits to being a 'digital nomad'. There's some smoke, but there is no FIRE.
That said it is a great post and another example of how one can leave the traditional workforce. Duance's confidence to make that leap was aided by his portfolio and Canadian real estate assets. Building wealth can give you that safety net that might be there to catch you if you stumble in the transition to that new work-life stage.
Create your retirement plan
While you may be totally content to work until you have enough, it might be a wonderful exercise to explore options that can enable an early, or semi-retirement. I am of the school of thought that we consider a form of earlier retirement that allows us to enjoy life. travel, exercise and spend more time with family while we still have our health. Money can have more value when we have greater health and greater energy. Will I be able to walk over 20 kms touring London when I'm 65? Will I be able to bike for several hours?
To create your plan you might consider that part-time work or that side hustle. My cousin who we are staying with for the last few days of our stay in England left full time work and now has several clients with a wide range of duties from accounting to bookkeeping and more. Another cousin here is self employed in landscaping. His wife has several admin clients and can work from anywhere. They have a home in New Zealand and usually spend the winters in that other hemisphere. My cousins and other Brits and Europeans are known to be prolific travelers.
Sources of income
You might also consider downsizing your home or accessing some value of your home by way of a HELOC or reverse mortgage if you find yourself house rich. You might rent out your home for a period while you travel. You might factor in inheritance when you are confident of those assets ending up in your hands. On that front you might err on the side of caution. Inheritance is not a retirement plan. There are many more options when it comes to semi-retirement or early retirement funding.
And it's more than a good idea to check in with a retirement specialist. As many of my readers will know we can make some simple and common mistakes in regards to retirement planning and retirement funding strategies.
Weekend Reads
We'll start off with another sad story, Rob Carrick reports on another reader who had a bad experience with a 'financial planner' at a bank. She went in for strategies on how to pay off debts, and surprise surprise, she was offered bank mutual funds. You see, banks don't make money when you pay off your debts.
At MoneySense Jason Heath offers more on the tweaks to the TD e-series funds. Jason has a wonderful suggestion that TD create complete asset allocation portfolios with these funds at various risk levels along the lines of the one ticket ETF portfolios. That's a good dose of common sense as most Canadians want a managed portfolio.
In the Financial Post William Watson reports that the Liberals plan to raise the basic personal amount to $15,000. That's the amount that you're allowed to earn without paying any income tax.
And here's a very helpful and inspiring post from Julia Dilecci at Nest Wealth. How to tidy up your finances.
And also on the Robo front Wealthsimple is at it again with the acquisition of SimpleTax.
The Canadian Financial Summit is underway and there are ongoing events today and tomorrow. Here's the link to sign up for free sessions from your favourite investment and financial writers, advisors and bloggers.
On Seeking Alpha I had a look at our dividend growth rates.
Thanks for reading, your comments are more than welcome. What is your plan for financial freedom?
Or you can reach me at cutthecrapinvesting.com.
Cheerio, Dale